retro-commissioning maximizes efficiency
Retro-commissioning (RCx) studies focusing on efficient central plant operations and high priority buildings at Citrus Community College yielded over $295,000 in annual energy savings and over $400,000 in utility incentives to offset project costs.
annual energy savings
$295,000
annual energy savings (kWh)
1.5M
annual gas savings (therms)
55,000
utility incentives
$430,000
central plant kicks off savings
Citrus College has pursued sustainability since the mid-1990s engaging in numerous campus conservation projects to greatly reduce energy waste.
Citrus won the Colleges Board of Governors Energy and Sustainability Award in 2021, which this press release discusses and highlights results from our retro-commissioning studies.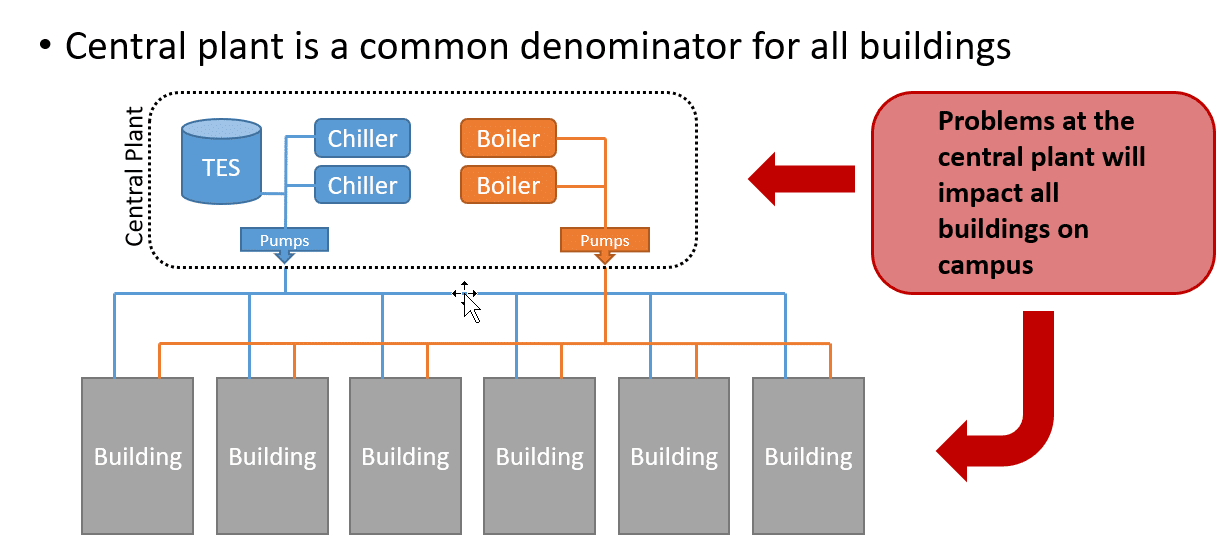 summary
Funded by SCE's Community College RCx Pilot Program, we conducted three retro-commissioning (RCx) studies which first focused on efficient central plant operations at Citrus Community College.
We started with efficient central plant operations to maximum energy savings.
Changes in operations resulted in improvements to all buildings.
Due to high energy use, prioritizing efforts means stronger paybacks and informs future building investigations.
construction management
In addition to the RCx studies, we provided construction management and commissioning services to ensure the projects were installed as designed and operating as intended.
During project implementation we:
oversaw the project schedule,
reviewed and approved contractor schedule of values and progress payments,
managed and responded to RFIs and change orders, and
facilitated communication among all involved parties through regular status updates and construction meetings.
phase one
The first project addressed the site's central utility plant which consists of two 600-ton chillers, a 7,200 ton-hour chilled water storage tank, and six 1.5 MMBtu/hr boilers.
We identified numerous control deficiencies causing elevated energy consumption, and provided the technical specifications and revised control sequences necessary to design and build the new control system. 
phase two
The second project investigated five, high-priority campus buildings identified based on equipment age and comfort complaints from occupants.
We investigated issues through review of trend data, EMS screens, and stand-alone data loggers, and identified significant opportunities to both reduce energy and also improve occupant comfort.
phase three
This time at seven campus buildings on campus we identified numerous opportunities to save energy by improving scheduling, outside airflow, supply air temperatures, and static pressure set points.