Did you know your business, municipality, campus or institution could receive incentives or no-cost technical support to investigate and implement energy-saving projects in your building? Utilities offer and procure energy efficiency programs to increase building energy efficiency. The goal of these programs is to save energy by resolving inefficient building operations and replacing inefficient equipment, which lucky for you results in lower energy bills.
Successful participation in these programs can reduce out-of-pocket costs for equipment replacements through incentives and lower operational expenses by lowering your electric and gas bills. Not to mention that energy efficiency projects often have other benefits too like getting new equipment, lower maintenance, better ventilation, and better indoor environmental quality.
Why would utilities pay for you to spend less?
Energy efficiency programs are not a scam. Yes, it might sound strange that a business incents you purchase less of what it's selling, but it's true. Why you ask?
One reason is because they have too. Most states have policies requiring utilities to invest in energy efficiency, shown in the map below.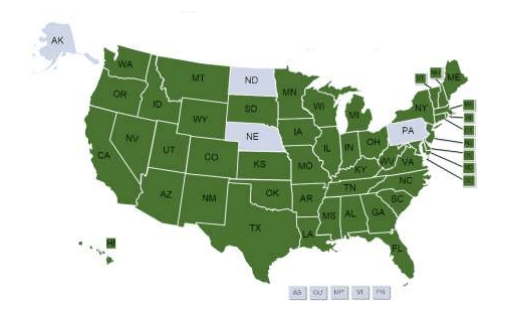 States with Utility Energy Efficiency Incentive Policies
Source: National Conference for State Legislatures
State regulators are charged with ensuring that our public dollars are invested in opportunities for public good, that otherwise aren't valued in the free market (aka externalities). These are benefits that otherwise don't get represented in free markets because we take them for granted, like lower CO2 emissions, reduced consumption of finite resources, reduced dependence on foreign energy sources, and the like.
The other important reason is that energy efficiency is a less costly avenue to source new electricity. Since building new infrastructure is expensive, saving energy is now used as a grid resource, saving utilities from building new generation, transmission and distribution systems.
Why participate in energy efficiency programs?
The bottom line is energy efficiency programs help improve your bottom line.
Reducing your operational expenses by lowering your electric and/or gas bill saves your business money each month. Even a modest energy savings project can add up over time. Some programs also offer incentives for equipment replacement, reducing your out-of-pocket project costs.
From helping at the initial stages investigating energy saving opportunities with an energy audit to offering incentives which offset project costs to implementation support through retro-commissioning and many flavors of assistance and incentives in between, there are a multitude of paths to savings.
Aside from saving money, energy efficiency programs can help meet your sustainability goals more cost effectively, since saving energy helps reduce greenhouse gas emissions. Who doesn't want to save money while saving the world?
How can I find programs to lower my electric bill (or gas)?
Since utilities operate independently across the country and offer third-party programs which are not typically listed on their websites, it is often difficult to identify available funding opportunities. So, there isn't currently a resource to find all the energy efficiency programs available in your area, although it's been attempted with sites like DSIRE. Unfortunately, due to a cancellation of federal funding, which was limited funding at that and resulted in less than frequent updates, the site is available but no longer maintained.
Utilities
We recommend as a first step, looking on your utility's website. Look for their business section, usually segmented by business size, and you will typically see a section for saving energy and money. Here are a few utility business websites.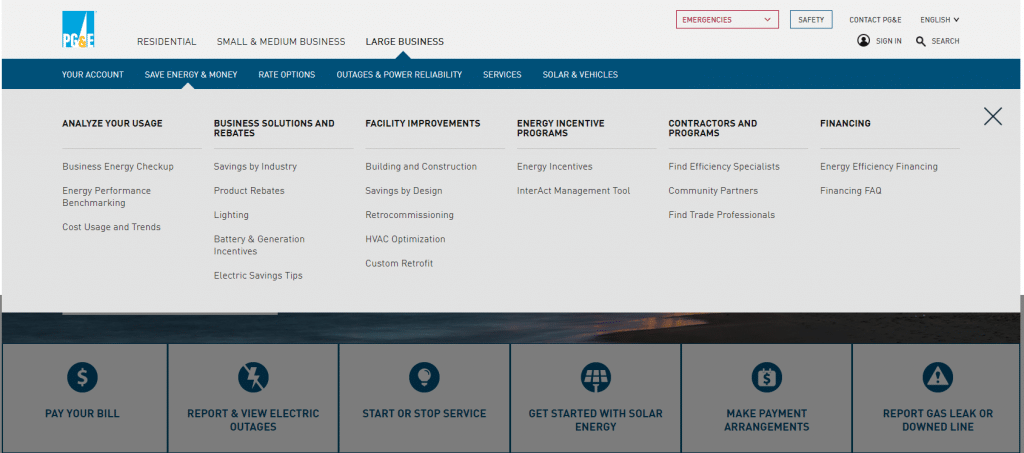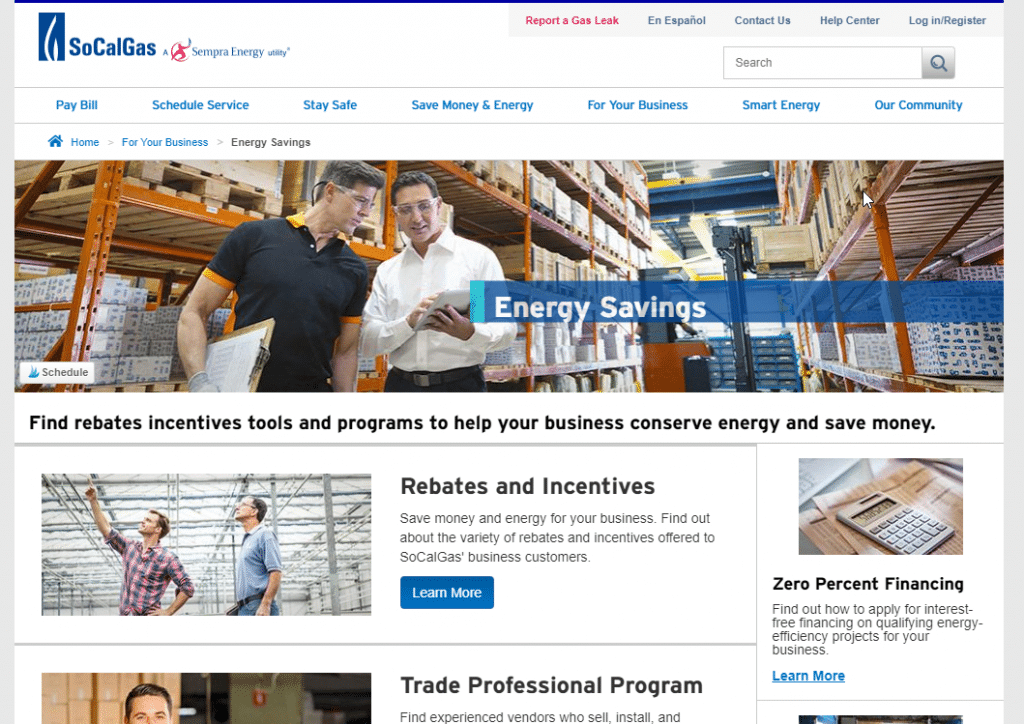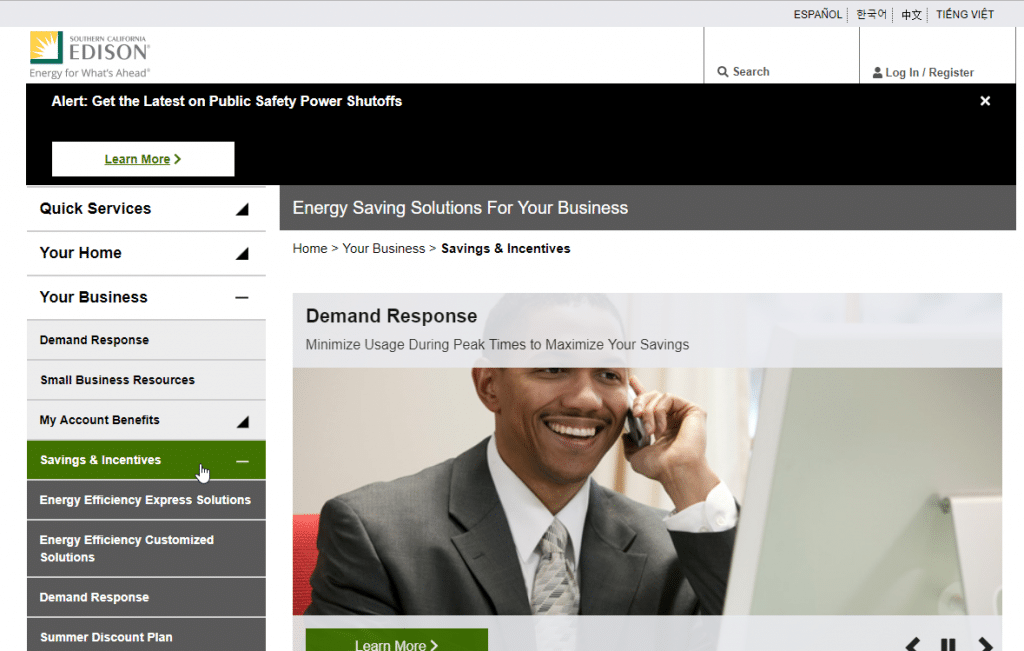 San Diego Gas and Electric (options available through menu)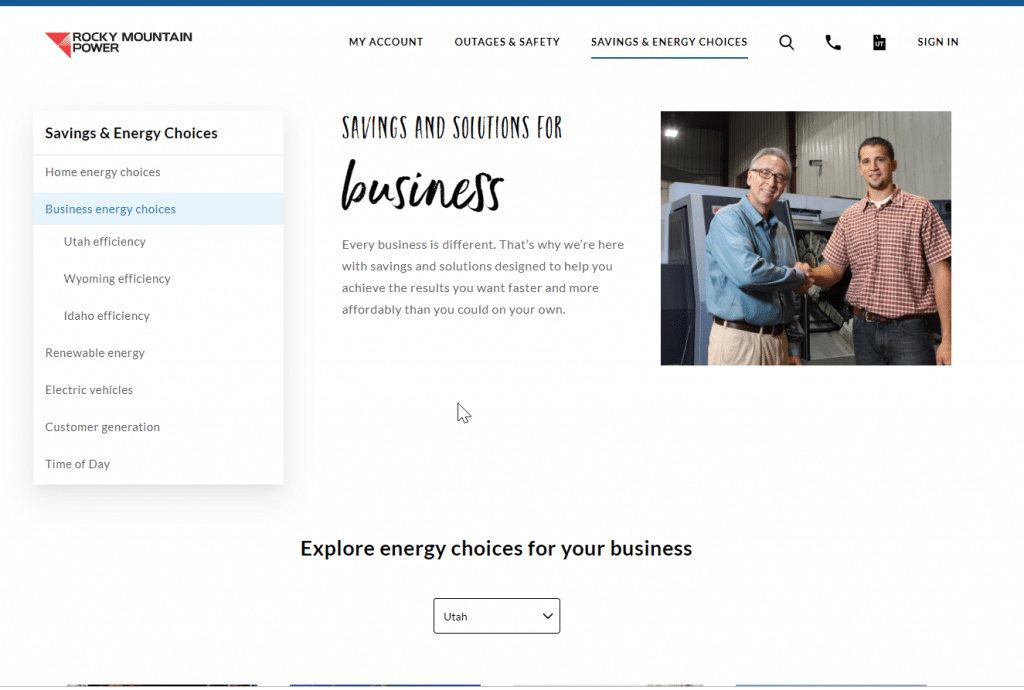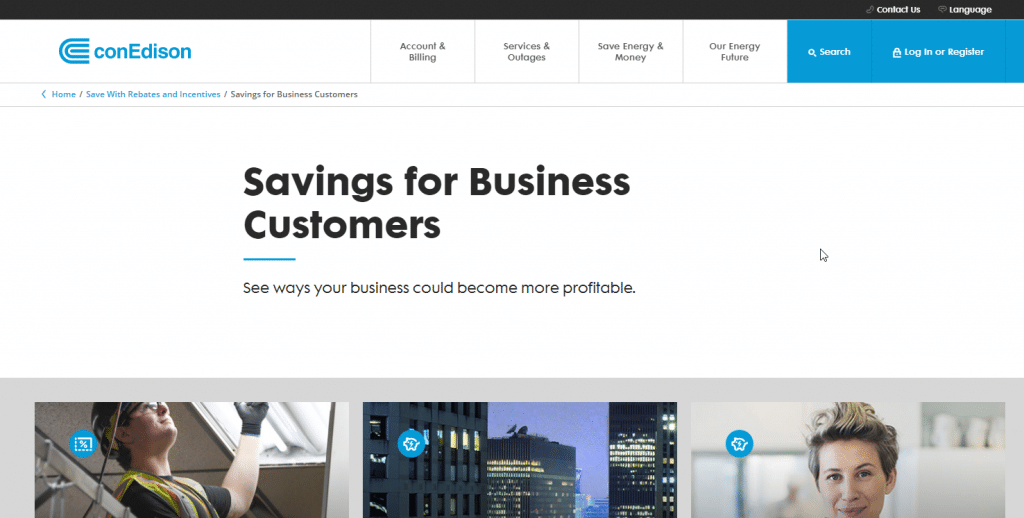 You can also reach out directly to your utility and inquire. Larger customers often have designated account representatives who can help you identify both utility-sponsored and third-party programs. Though, representatives are well informed about internal programs, they might not be aware of all the available third-party programs. In that case, you can try a web search or feel free to reach out to us directly. We are well-informed about third-party programs in many states and can help you identify them.
State Funded Organizations
Utility websites are a great start, but your state might offer additional programs through independent, publicly funded organizations such as the California Energy Commission (CEC) in California and the New York State Energy Research and Development Authority (NYSERDA) in New York.
How do I apply for energy efficiency programs?
The short answer is it depends. There are many different avenues for applications which vary by program. Different programs have different eligibility requirements varying by energy consumption to type of equipment replacement. Each program offers administrative support to help customers apply. So, if you have any questions reach out to the program administrator or your utility account representative.
What is the future of California energy efficiency programs?
California utilities now face pressure to diversify their energy efficiency program portfolio. They are required to have at least 60% of program budgets designed and implemented by third-party implementers by the end of 2022. The decision comes from the California Public Utilities Commission (CPUC). Despite a shift in the designers and implementers, energy efficiency programs will continue to exist offering incentives or support.
As California moves towards greater third-party program implementation, it is unclear what, if any, resources utilities will offer to learn more about them. Each proposed program has a budget for marketing, which should include operating a website. For customer ease, we hope to see each utility offer links to available programs with a brief description at minimum. However, this has not been the case historically.
As this shift to third-party administration solidifies in California, we will update the post with tips on finding these programs.
Getting Started
Energy efficiency programs are a great resource for your business to save money over time and help to reverse climate change. If you're intrigued at the idea of saving energy and money, start searching or calling your local utility. Feel free to contact us with any questions you might have.