reduce carbon footprint
target net zero
Meet your zero net energy (ZNE) or zero net carbon (ZNC) building goals.
Governments and commercial building owners face a challenge when reducing associated carbon emissions from building operation.
We provide tailored engineering analysis for your building or portfolio to help you meet carbon reduction goals.
questions on electrification?
net zero
carbon reduction services
We provide electrification and decarbonization consulting. Municipal governments in the Bay Area may be eligible for free consulting. Services include:
Roadmap development
Portfolio review
Scope of work development
Project cost estimation
Review of energy models and design strategies
Procurement strategy recommendations
scope 1 and 2
emissions reduction strategies
We help you achieve carbon neutrality, ZNE or ZNC in existing buildings utilizing the following strategies.

improve
energy efficiency

install
renewable energy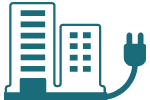 evalulate
building electrification
Decarbonization of your existing buildings need a holistic analysis approach than an ASHRAE audit can provide. Learn where it conflicts with sustainability goals.
questions about reducing carbon emissions?