California is often on the "bleeding edge" of environmental policy, a position that is frankly part of the reason why I live here. But sometimes, that stance can be painful and put local businesses in a position where they need to bear the brunt of progress in difficult ways.
One policy change around emissions reduction and HFC phase out is happening right now and it's going to put a squeeze on California grocers – especially the smaller ones, co-ops & "mom & pops." I'll break down the regulations for commercial refrigeration in California, but there are similar rules in progress for the HVAC market.
What's Changing in Energy Policy?
California Air Resources Board (CARB) is responding to California's Senate Bill 1383 (Lara, 2016) which set targets to reduce emissions of HFCs by 40% below 2013 levels by 2030.
Since the elimination of ozone depleting refrigerants over the last 20 years or so, HFCs have been the "go to" option for commercial refrigeration and HVAC.
Eliminating those HFCs is going to have a big impact. Just look at the recent sales trends of these refrigerants (all shown below are HFCs and non-ozone depleting, except R-22, an HCFC that depletes ozone, for which sales of virgin refrigerant has already stopped).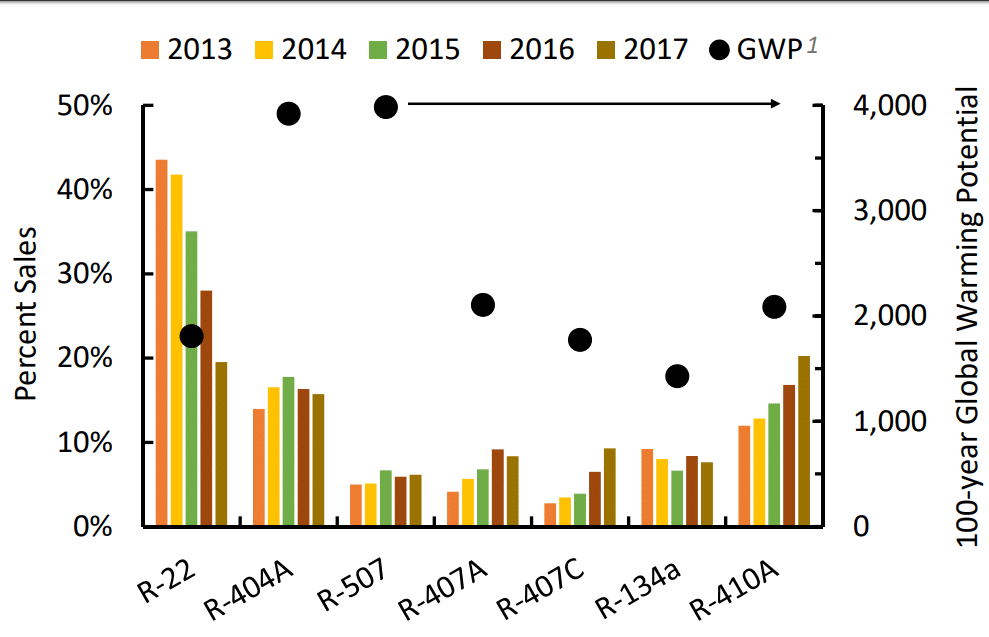 Source: CARB
You can see that sales have trended upward for HFCs as they have replaced the older, ozone-depleting HCFCs, and even older CFCs.
To simplify existing and proposed CARB regulations to phase out HFCs, there are essentially only 3 dates that you need to remember:
January, 2019
Yep, already passed. This was the date that CARB rules went into effect to eliminate the most common HFC blends from new and retrofit supermarket equipment, including R-404A and R-507A.
January, 2020
Further elimination of HFC blends in stand-alone refrigeration equipment.
January, 2022
Proposed regulations would eliminate use of new equipment with a refrigerant with a GWP > 150, and ban retrofits with GWP > 1500. This would eliminate the use of all common F-gas option in new stores, including recent market entries that use HFO blends (R-448a and R-449a). For retrofits, it would restrict virgin refrigerants except those HFO blends.
For details and specifics you can see the final 2018 ruling already in effect, and slides that summarize the draft proposed regulations for 2022.
Refrigerant Game Changer
The proposed regulations for 2022 are a huge game changer because they will essentially leave only "natural" refrigerants such as CO2, ammonia and hydrocarbons (see our article on potential energy efficiency impacts).
For retrofit options you will still have the new blends of R-448a and R-449a but these have some drawbacks because they contain HFOs. Some have expressed concerns about some dangerous by-products should those refrigerants be released at a fire.
Each of these has pros & cons associated with it but the one thing that they all have in common is that none of them are "retrofit ready." If you are retrofitting from an F-gas system to any natural refrigerant you're buying new compressors, new condensers, new cases – new everything! For a typical store size, that could easily be a $2 million project.
That's right, six zeroes.
Even though California is the first state to propose these regulations, we're actually way behind much of the world. We're 10 to 15 years behind Europe on this front, where they already have tens of thousands of grocery stores utilizing natural refrigerants. for example take CO2 trans-critical systems and check out their experience versus ours: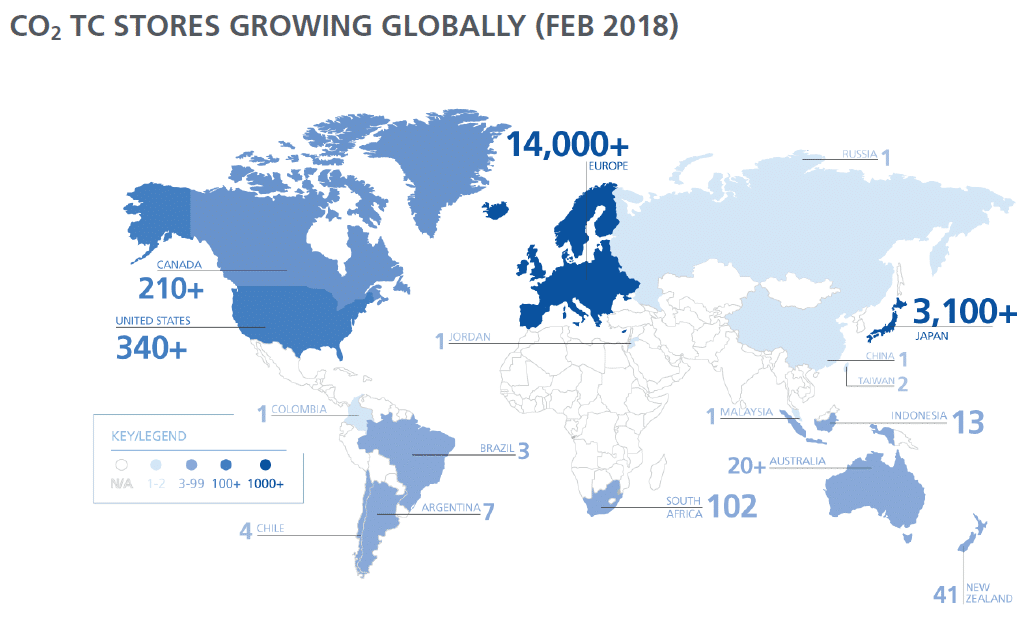 Source: www.shecco.com
Fortunately, we can rely on Europe's experience in this regard. But our reticence in the US to tackle these issues early have given European companies a huge competitive advantage in these markets.
Refrigeration Retrofit Options
In new stores there are options, though for now they will come at a cost premium. In a new store you're already spending millions, and to adopt naturals may only come at a premium that could be as low as 10%, or as high as 50% of the refrigeration system cost. But the retrofit market is where my big concern lies.
In the interim between now and the likely 2022 regulations, grocers have some lower cost options.
For the time being, many grocers have gone to the HFO blends (R-448a and R-449a) as a relatively low GWP solution – each has a GWP less than 1500, are relatively affordable, compatible with existing equipment, and have good energy performance.
But they still only make a relatively modest reduction in GWP, and the state can't meet its mandate of a 40% reduction by 2030 with retrofits to these alone. Not to mention, with future regulations on the horizon, you're likely only kicking the can down the road a few years.
Help to Fund Low GWP options?
The good news is that we've already passed legislation (Lara, SB 1013 aka the California Cooling Act) to establish a "Fluorinated Gases Emission Reduction Incentive Program" to provide financial assistance to help grocers through this transition.
The money for these incentives is supposed to come from California's Greenhouse Gas Reduction Fund, proceeds from our GHG cap and trade program. That fund spends about $2 Billion per year, although to date only about 8% of that has been for energy efficiency, and all those funds have been for residential programs targeting disadvantaged communities.
The bad news is that we've yet to get a line item in the governor's budget to fund the f-gas reduction incentives. As an industry, we need to speak up collectively and make sure we're a "squeaky wheel."
Energy Efficiency Opportunities?
With big changes come big opportunities, right?
Part of the Lara bill also requires the CPUC to include low GWP equipment in their energy efficiency programs, though it's unclear exactly how that will be accomplished. Collaboration between multiple state agencies is not one of our state's strong suits and there are tricky issues involved.
Not all low GWP options are as energy efficient as their predecessors so interpretations of baselines, which have become such a focus of the CPUC, will be a complicated matter.
Potential Impacts in Grocery Stores
Getting back to impacts on the grocery sector, fortunately, it can't be exported to other states. But I'm concerned about how these regulations are going to impact the price of groceries, and smaller grocers especially.
Since all supermarkets fall under the same regs, the added costs of these expensive retrofits are going to have to be pushed down to the consumers.
Supermarkets already have very low margins (typically 1-2%), so absorbing those costs is just not an option.
But larger chains have more options. If you have 30 stores, you can slowly retrofit your fleet, reclaim, recycle and reuse existing refrigerant stock, and use a few retrofits a year to keep your other, older stores operating.
But what are you going to do if you own one store?
You have the tough choice of either 1) absorbing millions of dollars of retrofit costs, likely causing you to raise prices vis-à-vis your larger competition or 2) limp along with existing equipment as declining stocks of your refrigerant become ever more expensive; or 3) kick the can temporarily down the road by retrofitting with the HFO blends of R-448a and R-449a.
Or worse yet, assuming CARB allows reclaim, there's an incentive to drive to other states, and smuggle in refrigerant from states where they haven't yet been banned.
My hope is that we can use that incentive money preferentially to help stores in disadvantaged economic areas, and smaller businesses. But not all of the money should go to them or we'll miss the overall goal of market transformation.
At last year's Atmo Conference, I had the opportunity to meet a number of vendors and grocers from Europe and they had a unified message when I asked them what it took to "tip" the market to natural refrigerants.
"The market didn't move until one or two big chains moved, then it tipped."
It was only when the big chains began standardizing on natural refrigerants that the market changed. That was what it took to get a critical mass of vendors, service personal and OEMs on board so that costs could begin to drop, and naturals became a viable opportunity.
So, while we need to be aware of market players that are disadvantaged so that we don't run mom & pop out of business, we can't only focus there, or we'll never see the market transformation we need.
Like this post? Share it on LinkedIn.
Many thanks to my fellow members at NASRC from whom I've learned everything I've written here. Please consider supporting them or becoming a member so that we can be the change we want to see.