Your employees may be on vacation but your computers and office equipment don't get one, unless you give them one. With sparsely occupied offices over the holidays, it's the perfect time to think about how your business can save energy and help the planet by turning off unneeded computers and office equipment. Here are three ways your office can save money and energy this holiday season.
1. Install Network-Based Computer Management Software
Computers use more energy than you may think. An idle desktop computer, when not in use, typically consumes one quarter of full load power. In most offices, this load ranges between 60 and 80 watts. Energy use falls dramatically when the system enters stand-by or hibernation mode, using as little as 6 watts and 3 watts in stand-by and hibernation mode, respectively. In both modes, however, the computer software stays resident in memory, allowing the computer user to "wake-up" the computer and begin working in a matter of seconds.
You can save energy with network-based power-management software. This allows IT managers to control the power settings of all computers, including the ability to turn off the monitor and force the computer into stand-by or hibernation mode after a predetermined idling period. These software solutions often include built-in energy saving calculations, providing management and IT personnel the information they require to quantify their energy saving efforts.
The power management software can be a simple stand-alone program or a fully integrated IT management solution. Several companies develop this type of software with the main difference being the level of integration with the other needs of the IT department. Most network-based solutions offer a "wake-on-LAN" feature where computers can be remotely controlled for software updates. Most software programs come with a reporting tool which allows the IT department to measure the energy savings yielded by the software.
Many of these software packages also include additional network management benefits, including the ability to perform system software updates, installations, and maintenance remotely, during non-business hours.
You might even be eligible to get money back. Some utilities offer incentives for this type of software installation. Look on your utilities website to find out more information or contact us (link).
If you do install power management software configure it to hibernate computers and turn off monitors and hard disks after a set period of non-use. This will nearly eliminate the energy consumption of the computers overnight, and possibly reduce consumption during parts of the day.
2. Lights Out for Your Vending Machine
Some vending machines consumes energy continuously to illuminate the display and maintain cold temperatures for their products. Installing a vending machine controller can save energy from unnecessary consumption. These controllers have occupancy sensors that turn off the vending machine lights and power down the cooling compressors after detecting no activity for a period of 20 minutes. When doing so, the controller will monitor ambient temperature and cycle on the compressor every two hours to keep the beverages at an acceptable temperature.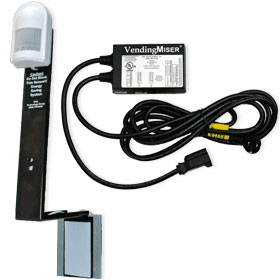 When we make this recommendation in an energy audit, we calculate the cost and savings using values from the database of energy efficient resources (DEER) work paper[1] (DEER Code CALC00AVVEN01) which cites energy savings of 1,612 annual kWh per vending machine.
This is another project for which you might be eligible for an incentive. Check in with your local utility and find out if you're eligible to get money back
3. Ask Your Employees. Pretty Please!
You don't need special equipment to save energy. One of the easiest ways to save energy is by simply asking. Ask your employees to power down ALL their devices, especially when leaving for extended periods like vacations. Desk lamps, printers, that string of unicorn lights woven in your desk plant, can add up to your energy savings.
You can even incentivize the request. Offer employees or departments prizes for the least amount of equipment found on during a random inspection. If everyone complies, offer a free lunch or dinner out.
If you really want to get their attention and make them remember, make a catchy campaign poster you can post in the office and share via email, like "Power Down this Holiday".
Save Energy and Power Down This Holiday Season
Never underestimate the power of saving power. Each bit of unused energy helps our planet. Give your office equipment and computers a well-deserved break, and both they and our planet will be thankful. If you have any questions about saving energy in your office, contact us anytime.
[1] Work Paper PGECOREF111, Vending Machine Controller, Revision # 0, https://www.sdge.com/sites/default/files/regulatory/WPSDGENRCS0001%20Rev%200%20Vending%20Machine%20Controller.doc